MK Marathon Ambassadors
Join our team! We are looking for a group of individuals who are actively involved in their communities and have a passion for running. Whether you are a new runner or an elite, we want our ambassadors to inspire fellow participants in their running journey.

Mission: to spread brand awareness and excitement for the MK Marathon 2018 race through social media and community.
Requirements:
Run the MK half or full marathon on Bank Holiday 7th May
SPREAD THE WORD about the MK Marathon events (through local running clubs, social media, blogging to name a few examples), and answer questions participants may have.
Re-tweet/share MK Marathon's social media posts.
Benefits:
Complimentary race registration (or reimbursement if you have already registered)
Website recognition
Free MK Marathon Hoodie
It was a great honour to be an ambassador for the MK Marathon event. The race itself was so well organised, an amazing route and even the weather was fantastic. To be a part of such a positive local community event made me very proud and I hope that I was able to either inspire others to enter, or help them with their training.

Marc Horner – MK Marathon Ambassador

We are now recruiting MK Marathon Ambassadors for the 2018 event. Please complete and return the attached form…

Please submit applications to run@mkmarathon.com
Deadline for applications is Friday 18th August 2017.
Winners will be announced Friday 1st September 2017.
---
MK VIP AMBASSADORS 2017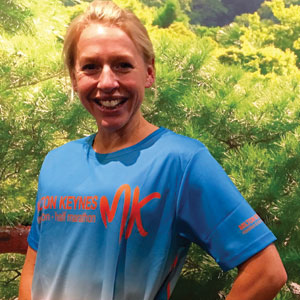 GAIL EMMS

You can join TEAM GAIL at the MK Half Marathon on 1st May. Sign up and join TEAM GAIL and select a time of 1:50 or less to join Gail in the same starting zone.

"Milton Keynes is an amazing place to live and I'm a big fan of the MK Marathon event and honored to be a VIP Ambassador for 2017. Please join my team so we can run together!" said Gail.

A badminton player since the age of four, Gail was first chosen to represent England in 1995 and regularly played for her country until her retirement. Her best results were winning gold at the 2006 World Championships in Madrid, 2004 European Championships in Geneva, and a silver medal at the 2004 Olympic Games!
JO WHILEY

You can join TEAM JO at the MK Half Marathon on 1st May. Sign up and join TEAM JO and select a time of 2:15 or less to join Jo in the same starting zone.

"I had such a brilliant time doing the MK Half Marathon. It was extremely well organised, the route was great – just the right amount of road running and pretty waterside tracks and running into the stadium for the final bit was quite something." said Jo.

Jo presents the Evening Sessions on Radio 2 and also presents televised coverage of major music festivals, such as the Glastonbury Festival. On 19 March 2014, Whiley undertook a challenge for Sport Relief, in which she walked, jogged and ran on a treadmill for 26 hours, with a five-minute rest break each hour. She did this to raise money for the Sport Relief appeal.

---
MARK ATKINSON – Milton Keynes
I started running in 2011. Like most new runners I started with run/walk approach and gradually built up, training on my own, largely running in the dark so as not to scare people.
Hearing of the amazing and awesome organisation that is parkrun, I decided to aim for a 5k run. Later I managed to double that at the Bupa London 10k. Training had gone well and I was starting on a slippery slope to marathons.

Stubbornness runs in my family (running doesn't). I'd been easily passed by an elderly Superman, wearing a 100 Marathon Club vest. In the back of my mind a decision was made and I'm now on 83 marathons and counting down to my own 100 vest. 
Facebook: mark.atkinson.3139241
Twitter: @montythemole
Blog: https://atkosite.wordpress.com/
---
SIAN CARTER – Milton Keynes
I'm 32 and I've lived in Milton Keynes my whole life. I work in a secondary school with visually impaired students and I'm training to be a teacher part-time. I'm a vegan and have really enjoyed the benefits of being a "plant powered athlete". I've been running since January 2015, starting from zero, I slowly built up to the London Marathon 2016. I've never been fast (the marathon took 6:26) and running didn't come naturally, but the support I received my running club and friends spurred me on – this is what makes running so brilliant! I now focus on shorter distances, 10ks and half marathons and I also regularly attend and support Parkrun. I hated PE at school, and whilst I really enjoy hiking I never imagined I'd become a runner, never mind that I'd run a marathon!
Instagram: @sian_carter and @girlrunwild
Twitter: @sian_carter
---
COLIN JOHNSTONE – Leeds
Took up running aged 41 years old in May 2015. Was instantly bitten by running bug. Did first race in July 2015.
Just 90 days after my first 10k race, I ran first marathon.
Went from total non-runner to completing a full marathon in just 21 weeks.
I've since gone run crazy. In 2016 alone I've done 31 races including 4 marathons & 16 half marathons.
Proudest moment was winning August UKRunChat member of month. This was a genuine honor. I always try to encourage runners of all abilities.
Twitter: @LufcColin
---
KEV KEENAN – Milton Keynes

An ex-soldier and keen runner, I have been actively running and racing for about 3 years. I have completed 4 full marathons and one 50 mile ultra marathon as well as many half marathons and shorter events. When not working in Up and Running advising local runners I can often be found running in the parks and woods of MK with my two cocker spaniels Jarvis and Darwin.
Twitter: @kev_running
Blog: kevjkeenan.wordpress.com
---
SAMANTHA LAKE – Tavistock, Devon

I am a 37 year old wife and mother of two young children, growing up; I swam to national level, then got into triathlons where I represented Great Britain at the World Long Distance and Sprint Championships in my age group. After having my children I returned to running and found it a really great way to balance my full time work and keep up my fitness. Quickly, I found I had made good progress and after a recommendation by my sister-in-law, Sarah King from Redway Runners, MK, I decided to run at MK marathon in 2014. I achieved my dream of a GFA time for London – 3:35:40, I then went on to run London Marathon the next year, where I then achieved a championship time of 3:14:54! So I believe I have a lot to thank Milton Keynes marathon festival weekend for! It is time for me to give something back to you. I am really looking forward to returning to MK in 2017 to help other running friends to realise their dreams in your extremely well organised and prestigious event!
Facebook: sam.lake.984
Twitter: @samlake78
---
SARAH LEE – Northampton

I am a fun, crazy person who loves taking part in sporting events whether that will be as a runner, cyclist, swimmer, or volunteering, or being the behind the scene person. If there is an event, where possible I am there. I try to drag family in to my schemes, and give them a link to show them the benefits of volunteering with me. Last year I took my brother to two events, this was the first time he had ever done any volunteering and he loved it especially packing the bags in the stadium.
Facebook: SarahLee
Instagram: https://www.instagram.com/?hl=en
Twitter: @sarahlee45
---
EWAN MITCHELL – Leeds

I started running in 2012 after realising that my 2 year old son was only going to get faster and I was badly out of shape. It started with a plod around the local park, grew into my first 10 and last year I took part in my first marathon finishing in 3:59:38. I grew up in Milton Keynes so it felt like the obvious choice for my second marathon. Getting to run around places where I used to play as a child will be a wonderful experience.
I'm married with 2 children (who will be coming to MK to cheer on all of the runners) and I will be turning 40 a month before the MK Marathon, which I guess is the real catalyst for entering my second 26.2mile race.
Facebook: ewan.mitchell.73
Twitter: @EwanMitchell
Blog: Run Sancho Run
---
SHEILA ROSE – Milton Keynes

I'm a Personal Trainer, Sports Massage Therapist, Nutrition Advisor and a distance Runner. Like most people in this industry I have a passion for fitness and how it can be life changing – my own personal fitness passion is running, it's what keeps me reasonably sane in a crazy world.
I ran my first marathon in 2013 and have never looked back – 2015 was about pushing distance and taking the next step into Ultra running,
I'm really proud to be age category winner of the Chiltern Challenge 50K Ultra, in addition to holding 2nd place Lady Age cat. for the UK Trail Running Championships Middle Distance 2015, March 2016 – top 150 finisher of the Green Man Ultra & Female Barefoot Champion.
On the 17th September this year – I completed my first 100 mile race, Robin Hood 100 and joined the ranks of the Centurions – age 52.
Facebook: sheila.rose.391
Twitter: @SheilaRosePT
Blog: Happy Owl Fitness
---
KARL RUSHEN – Milton Keynes

In addition to the crazy stuff I do, I'm also an Ordnance Survey #GetOutside Champion, lucky husband to a wonderful (suffering) wife and father to the most adorable little man, my little family is everything to me. I take inspiration for the stuff I do from my little brother, he was killed in action whilst serving in Afghanistan. In trying to create a positive out of the worst possible tragedy I've become someone who is driven to create a legacy in his name and ultimately not waste a minute of life. I smile a lot, laugh even more and hope that along the way, I'm encouraging others to do the same!
Facebook: StormsComin  & The 100 Peaks Challenge
Instagram: Stormscomin & the100peaks
Twitter: @Mr100Peaks & @The100Peaks
Blog: Ally Sky God
---
OGECHI UGHAONU – London

I started running in 2012 when my local gym was sold. At first I was upset because I had an established regular exercise routine, but it turned out to be a blessing in disguise as I started running instead. What surprised me most about running was how difficult it was at the beginning. I thought it wouldn't be too hard as I was already fit from going to the gym. However, running that first mile almost made me give up. It was very tough, but I persevered until one day I could run 5k, then 10k, a half marathon, and finally a full marathon. I'm known as the 'crazy runner' among my friends because of my love of run challenges, e.g. running 10 miles every day for a week, and doing a 23-mile training run in the morning, then rocking up to a 5k race in the afternoon. After a family tragedy in November 2015, I stopped running. In the last few months, I have come back into it (a whole lot heavier too) and rediscovered my love of running. My goal is to get back to full running fitness and run two marathons next year.
Facebook: Ogechi Ughaonu
Instagram: Naija82
Twitter: @Ms_OgechiU
---
KRIS WHITMORE – Hitchin

I have always had a talent for running discovered when I did run the world in 1985, at secondary school I joined the local athletics club and found a particular fondness for cross country running. At 16 I ran my first half marathon and have run off and on ever since. I am now running at a higher level than ever for enjoyment and health benefits.
Facebook: Kris.P.Whitmore
Twitter: @Kris_Whitmore
Blog: Ageing Running Man
---