The MK Marathon has a Loyalty Club known as 'The Legends' to reward runners who have finished 5 x MK Marathons (need not be consecutive).
2018 will be our 7th year of the event
Runners that have run 5 full marathons will qualify for membership. Sorry half marathons do not count towards your target.
Eligibility: Runners who have run five MK Marathons  (need not be consecutive)
Benefits:
Legend Medal as well as the finishers medal
Exclusive use of the Performance Room at Stadium MK with private balcony overlooking the finish
Listing on this page
Discount on following years event
All awards will be presented in the Performance Room at Stadium MK after the race. All Prizes must be picked up in person.
Thank you for being a Loyal Runner – See you at the Finish Line!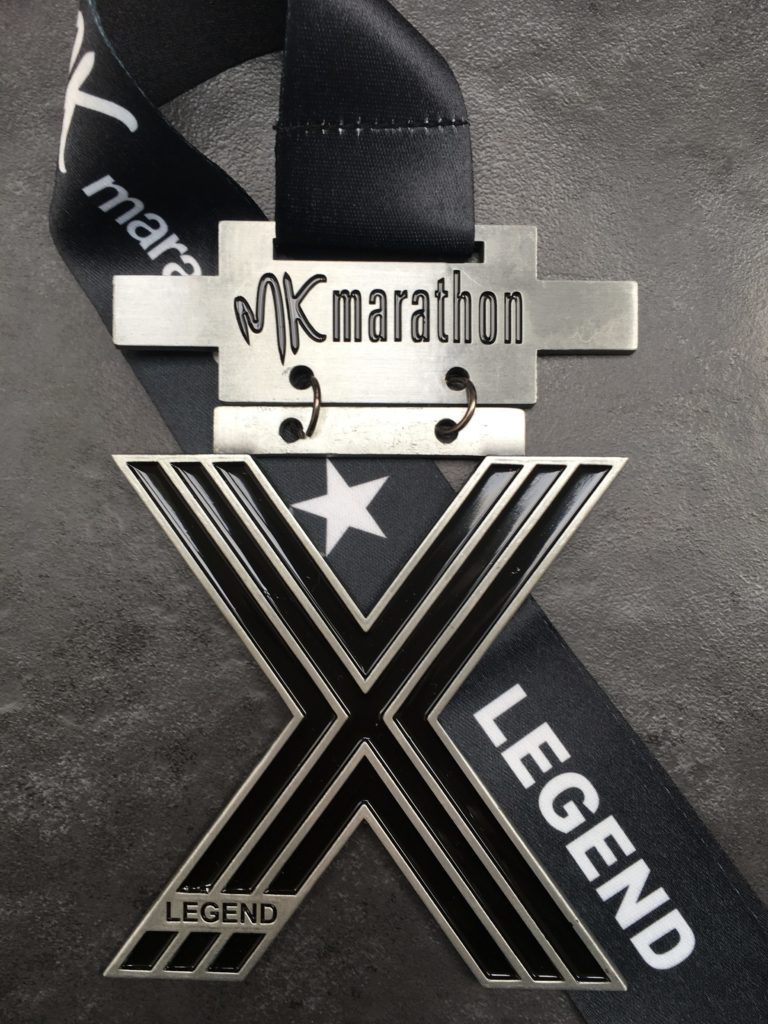 MK Marathon X Legend Medal. Something to work towards! We know you will enjoy the journey!
---
EVER PRESENTS…
Ran the MK Marathon every year!


ALVES, ALEX REIS
ATKINSON, MARK
BARTON, PAUL
BASTICK, MARK
CARTWRIGHT, PAUL
CHAMBERS, DEAN
CHAN, SO MEI
CLARK, HOWARD
DE GORTER, JEAN-JACQUES
FITZPATRICK, JOHN
FLICK, DARREN
FLORES, LUIS
FLOYD, MELANIE
FRENCH, KARL
GIBBONS, ROBERT
GURNEY, SIMON


HAYWOOD, SIMON
ILLINGWORTH MBE, SIMON
JONES, HUW
JOYCE, PAUL
KIRSCHNER-HEAVENS, SIMON
KIRWAN, JOHN
LAMBERT, CAROLE
LEWIS, DAVID
LOWES, RICHARD
LUXON, KEITH
NAATIT, HMAD
NESBITT, JAMES
NORMAN, BEN
PATEMAN, RICHARD
PELKEY, ROBERT


REDDEN, ANDREW
ROSE, PAUL
SANGSTER, JENNIFER
SCIEPURO, DANIEL
SCOTT, GRAHAM
SHUGAR, JON
SMITH, ANTONY
STRYCZEK, JOHN
TAYLOR, PETER
TOMLINSON, OLIVER
UNDERHILL, RICHARD
WALKER, WAYNE
WILLINGTON, GAYLE
WILLINGTON, RHYS
YEARLEY, LESLEY

---
2018 LEGENDS…

ACKERS, TONY
ARMSTRONG, RACHEL
BARRINGTON, STEVE
BENZIMRA, RUTH
BURGESS, GLENN
BUTLER, PATRICK
COLEMAN, BEN
COLLINS-SIDWELL, KATIE
CRANE, ROB
CURTIS, RICHARD
DAVESNE, LAURENT
DIXON, GARY
ELLIOTT, PETER


FERGUSON, JOHN
GOODWIN, CAROL
GROUNSELL, STEVE
HUNG, KITTY
JACOBS, STEVEN
JENKINS, PAUL
KEENAN, NOEL
LANGRIDGE, JASON
MIHALIK, NORBERT
MURPHY, CHRIS
NEALE, RICHARD
NORRIS, MARK
OVENDEN, PAUL
PAICE, STEVE


RAMSAY, GRANT
REGAN, DEBBIE
ROBINSON, RACHAEL
SEALEY, ANDY
SMITH, DANIEL
TAYLOR, JONATHAN
TAYLOR, PAUL
TONKS, MATTHEW
VERE, ANDY
WOODWARD, PAUL
WOSKETT, LEE
WRIGHT, ANDREW
WRIGHT, IAN

---
2017 LEGENDS…

Aitken, Colin
Amos, Claire
Bunn, Liam
Burrows, Raymond
Clarke, Dave
Clarke, Peter
Dobbs, Russell
Dunham, Stephen
Edwards, Steve
Ellwood, Tim
Fleckney, Rebecca
Flores, Gabriel
Geist, Lee
Hill, Mark


Hodges, Sonia
Kosla, Kaja
Lee, Philip
Long, Tim
Malkov, Alexandre
Mawson, John
McGillivray, Alex
McKinley, Marcel
Mills, Brian
Muggeridge, Lesley
Palmer, Anne
Prior, Samantha
Rivers, Jack
Rose, Russell


Rose, Sheila
Rozitis, Ben
Savory, Stephen
Smith, Helen
Smith, Nicholas
Stewart, Jane
Sutherland, Paul
Tailor, Dennis
Thomas, Carolyn
Tubbs, Phillip
Vallance, Ian
Warby, Neil

---
2016 LEGENDS…

Alex Reis Alves
Mark Atkinson
Paul Barton
Mark Bastick
Philip Bradley
Paul Cartwright
Dean Chambers
So Mei Chan
Matthew Cheyney
HOWARD CLARK
Peter Clarke
JJ de Gorter
John Fitzpatrick
Darren Flick
Luis Flores
Melanie Floyd
Karl French
David Galsworthy
Robert Gibbons


Simon Gurney
Simon Haywood
Simon Illingworth
Huw Jones
Paul Joyce
Simon Kirschner-Heavens
John Kirwan
Carole Lambert
Philip Lee
David Lewis
Richard Lowes
Keith Luxon
Lisa Mercer-Leach
Hmad Naatit
James Nesbitt
Ben Norman
Neil Parker
Richard Pateman


Robert Pelkey
Amanda Robinson
Paul Rose
Ben Rozitis
Jennifer Sangster
Daniel Sciepuro
Graham Scott
Jon Shugar
Antony Smith
Richard Stickland
John Stryczek
Peter Taylor
Oliver Tomlinson
Richard Underhill
Ian Vallance
Wayne Walker
Gayle Willington
Rhys Willington
Lesley Yearley
More Information
CONTACT
If you have any questions or queries regarding the MK Marathon and Supporting Events please refer to our comprehensive Common Questions section of our website or click here