We are so looking forward to welcoming you to our 10th-anniversary event.
Join us on 1st, 2nd, or 3rd May for our contact-free, covid-secure event experience. We know how important races are to every runner and we are doing everything possible to make sure our event will be safe. The benefits of committing to a goal, running with others and that finish line feeling will be all the greater after the challenges we've experienced in 2020.
We are so pleased that our plans have been endorsed by the StadiumMK, the MK Council, Public Health, and all other necessary stakeholders.
Our multi-award winning marathon event is consistently ranked in the top 10 UK marathons, an AIMS/IAAF Grade A certified race, with BARR Gold accreditation for outstanding race management and with an amazing stadium finish. A London and Boston marathon qualifying event as well as an England Masters and Abbott World Marathon Majors Wanda Age Group World Championships qualifier.
We're blessed with a tremendous amount of natural beauty in Milton Keynes. We're also lucky to have a world-class system of cycle paths. We do our best to take advantage of those factors to give our runners a course that's interesting, inspiring, fun to run, fast, and different from other marathons.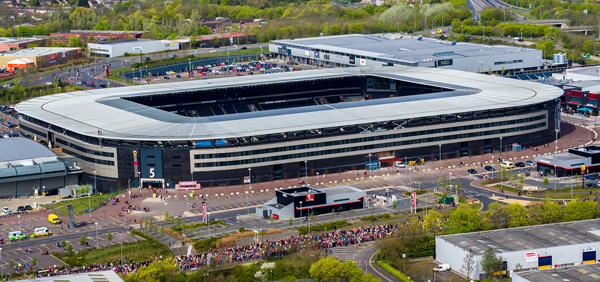 10 reasons to run the MK Marathon Weekend 
Fantastic bling

Quality tech tee that you will wear again

Scenic route with tree-lined boulevards, lakes, parks, and woodland

Professional timing and live results

Superhero Fun Run for the whole family

A post-race music festival with food and drink!

Rocket 5k voted BEST UK 5k


MK Half voted BEST UK half marathon

Run the Rocket 5k and the half, full or relay the next day and earn a 3rd MK Challenge medal

Amazing stadium finish
What are you waiting for? Secure your place today…
Saturday 1st May 2021
Rightmove MK Half Marathon
Rightmove Mk Turing 10k
Sunday 2nd May 2021
Rightmove MK Rocket 5k
Superhero Fun Run
Bank Holiday Monday 3rd May 2021
Rightmove MK Marathon
BMI MK Marathon relay
---
Earn Extra Medals
One weekend. Multiple days of running. Extra bling!
Runners who participate in the Rocket 5K and either the Turing 10k, Half Marathon, Marathon Relay, or Marathon will receive the MK Challenge Medal.