We are so looking forward to welcoming you to our 10th-anniversary event.
Join us on Sunday 27 June for our contact-free, covid-secure marathon event experience. We know how important races are to every runner and we are doing everything possible to make sure our event will be safe.
Our Covid-19 Guarantee will provide you peace of mind when entering our events. If we can not proceed in June due to Covid-19, you will have lots of options including a full refund of your entry fee (minus the Active processing fee).
Our multi-award-winning marathon event is consistently ranked in the top 10 UK marathons, an AIMS certified race, with BARR Gold accreditation for outstanding race management and with an amazing stadium finish. A London and Boston marathon qualifying event as well as an England Masters and Abbott World Marathon Majors Wanda Age Group World Championships qualifier.
We're blessed with a tremendous amount of natural beauty in Milton Keynes. We're also lucky to have a world-class system of cycle paths. We do our best to take advantage of those factors to give our runners a course that's interesting, inspiring, fun to run, fast, and different from other marathons.
Race details
Race Day: Sunday 27 June 2021
Start Time: From 07:00 and 08:10 (you must select a 10-minute WAVE TIME)
Start Location: Saxon Street, outside Stadium MK!
Finish Location: Stadium MK
Course Time Limit: 7 Hours
Age: Must be at least 18 years old on race day
Race Packs: Will be posted 2 weeks before the event
FAQ's: Click Here
Online Registration: Register
Entry Limit: 2000
License Number: England Athletics 2020-38412

Parking: Book race day parking here.
Participant Code of Conduct 2021: Click Here
---
Entry Fee
EARLY: £44 EA and £46 non-EA until 14 October at midnight
STANDARD: £46 EA and £48 non-EA until 31 December at midnight
LATE: £48 EA and £50 non-EA until 18 May at midnight
There will be no entry on the day.
If you fall within a high-risk vulnerable group then you should not enter this event. [ UK Gov COVID-19 Vulnerable Group guidance documents ]
---
Course Map
---
Course Profile

---
Prizes
Prizes will be posted after the event: mkmarathon.com/prizes
---
Medal
Check out our amazing 10th Anniversary event medal! 🏅
---
Earn Extra Medals
One weekend. Multiple days of running. Extra bling!
Runners who participate in the Rocket 5K and either the Turing 10k, Half Marathon, Marathon Relay, or Marathon will receive the MK Challenge Medal.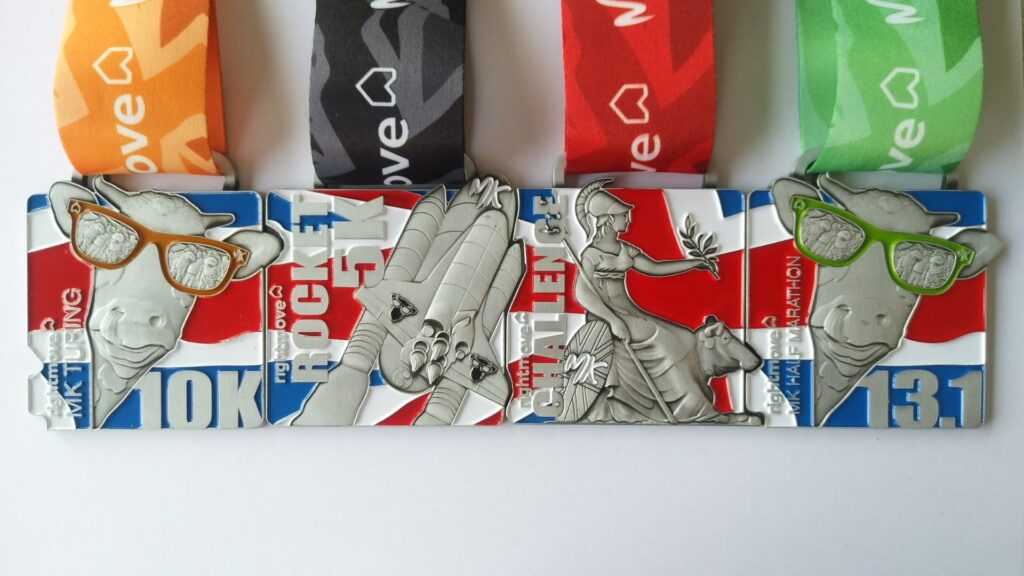 ---
RUNNER FEEDBACK
My first time running the MK Marathon and it was an absolutely fantastic event from start to finish from the organisation, ease of parking, accessibility, baggage, toilets, beautiful route, amazing stadium finish, fab medal, T-shirt, and countless help from volunteers. My favourite marathon by far. I will definitely be back, cannot fault this race, perfect in so many ways. Thank you MK Marathon Weekend!
Nicola Tilley
Racecheck Feedback
RUNNER FEEDBACK
An excellent event that was brilliantly organised.
The family had plenty to do while they waited for me to plod over the finish line.
Cant wait to book next year.
Andrew Brooker
Racecheck Feedback
RUNNER FEEDBACK
This was my first marathon, and I absolutely loved it! Such a great atmosphere, amazing organisation, brilliant support, everything I needed to get me through it – and fantastic medals! Can't praise the team highly enough – amazing work done by all!
Kaye Williams
Racecheck Feedback
RUNNER FEEDBACK
This is one of my favourite marathons out there, it offers a unique course compared to your standard road marathon and seems to get better, year on year. It's a lot of fun, and if you haven't done it yet, you really should!
Karl Rushen
Racecheck Feedback
RUNNER FEEDBACK
Great race, well organised, great support. Would run again next year and recommend to friends.
Ryan Dempsey
Racecheck Feedback
RUNNER FEEDBACK
This was my first half marathon and it was amazing from start to finish, so very well organised and the support was outstanding. Added bonus finishing in the MK Dons stadium. Well done to all the organiseres and marshals they all did a brilliant job to make a weekend of running enjoyable .. will be signing up again next year .. love the t-shirt and the meda.
Katie Grayson
Racecheck Feedback
RUNNER FEEDBACK
Doing a marathon is quite stressful in itself, but Milton Keynes was a great event – the fantastic organisation, ease of getting there, and quick, simple registration process on arrival took the stress out of this element so that I could focus my energies on running! I had a fantastic day – thank you.
Helen Mussen
Racecheck Feedback
RUNNER FEEDBACK
The Rightmove Milton Keynes marathon is a lovely course through country parks, around lakes, through woodlands, and more.
The main thing to mention though is the support, which is absolutely tremendous around the whole course. Milton Keynes supporters are terrific and cover almost the whole course. It really does provide such a boost – and the bonus finish in the football stadium is terrific too. Highly recommend
Danny Williams
Racecheck Feedback